Rose O'Rion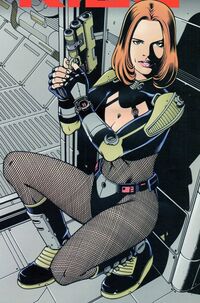 Current alias
Rose O'Rion
Relatives
Rachel (sister)
Base of operations
Mobile
Characteristics
Status
Origin
History
The eponymous protagonist of 2000 AD strip Rose O'Rion is a spacefaring female thief for hire, who is frequently hampered in her chosen profession by an unfortunate tendency to have a conscience.

Powers and abilities
Abilities
Nicking stuff.
Strength level
Human female who gets regular exercise (i.e. running away from the authorities).
Weaknesses
Her conscience.

Paraphernalia
Equipment
Whatever she can pinch.
Weapons
Ekmann .308 Smartbarb blaster which fires pre-programmable shells with variable shape capacity.

Notes
Rose O'Rion first appeared in episodes of a series of stories called Pulp Sci-Fi in 2000 AD progs 1099 and 1122 before graduating to her own strip in progs 1151 to 1158. All her appearances to date were reprinted in the collected edition Rose O'Rion which was given away free with Judge Dredd Megazine #354.
Links
Discover and Discuss
Ad blocker interference detected!
Wikia is a free-to-use site that makes money from advertising. We have a modified experience for viewers using ad blockers

Wikia is not accessible if you've made further modifications. Remove the custom ad blocker rule(s) and the page will load as expected.