Roxanne O'Rourke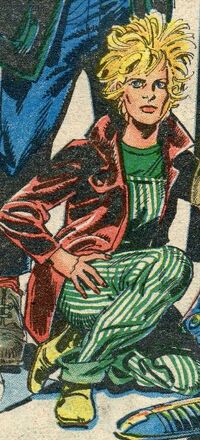 Real name
Roxanne O'Rourke
Affiliation
Ally of Skizz
Relatives
William O'Rourke (father)
Base of operations
Birmingham
Characteristics
Status
Education
Secondary school
Origin
Origin
Normal human birth
First appearance
Last appearance
History
Roxanne O'Rourke is a character from the 2000 AD strip Skizz. She was just a fifteen-year-old schoolgirl from Birmingham with no future, living a frugal life in Thatcher's Britain with her parents and dreaming of being a star. Then she encountered Interpreter Zhcchz of the Tau Ceti Imperium, a timid alien who had crash-landed on Earth and was hiding from its hideous ape-like inhabitants in her garden shed.
Roxy gave 'Skizz' sanctuary, sheltering him in her bedroom, trying (largely unsuccessfully) to find food he was actually capable of digesting and eventually sharing the knowledge of his existence with her dad's former workmates Loz and Cornelius. The three kept Skizz one step ahead of the authorities, led by the repulsive Van Owen, until his own people arrived to rescue him. Roxy met Skizz again when he returned to Earth years later.

Powers and abilities
Strength level
Average human female.

Paraphernalia
Transportation
(Formerly) Cornelius's van.
Weapons
None.
Links
Discover and Discuss
Ad blocker interference detected!
Wikia is a free-to-use site that makes money from advertising. We have a modified experience for viewers using ad blockers

Wikia is not accessible if you've made further modifications. Remove the custom ad blocker rule(s) and the page will load as expected.