Sarah Jane Smith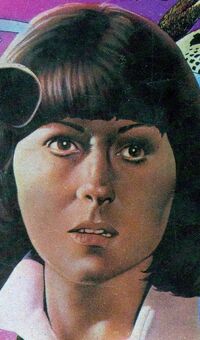 Real name
Sarah Jane Smith
Aliases
My Sarah Jane; Joan Brown
Relatives
Lavinia Smith (aunt); Luke and Sky (adopted children)
Base of operations
Bannerman Rd., England
Characteristics
Status
Origin
Origin
Normal human birth
History
Sarah Jane Smith was a journalist who travelled for some years through time and space with the the Time Lord known as the Doctor. The pair fought injustice wherever they found it. After parting company with the Doctor, Sarah Jane continued to investigate and combat threats to Earth, aided by the sentient mobile computer K9 and by her young friends Maria, Clyde, Rani, Luke and Sky. She also helped lost and confused aliens to return home, realising that just because someone is extraterrestrial it doesn't mean that they want to kill you.

Powers and abilities
Abilities
Investigative skills; bravery; determination.
Strength level
Human female who gets regular exercise.

Paraphernalia
Equipment
Notepad; pen; K9; sonic lipstick; alien-detecting watch.
Transportation
1991 Nissan Figaro; (formerly) the TARDIS.

Notes
Sarah Jane has appeared in numerous Doctor Who related publications from various publishers, including TV Comic, Doctor Who Magazine, the K9 Annual and several Doctor Who Annuals. She was played on TV by Elisabeth Sladen.

Trivia
In a reprint of Sarah's first comics appearance in 1978, she is renamed 'Joan Brown' as Sarah had by this time left the TV series.
Links
Discover and Discuss
Ad blocker interference detected!
Wikia is a free-to-use site that makes money from advertising. We have a modified experience for viewers using ad blockers

Wikia is not accessible if you've made further modifications. Remove the custom ad blocker rule(s) and the page will load as expected.