The weekly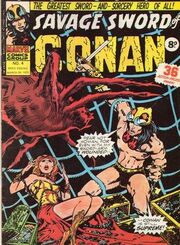 The
Marvel UK
version of
Savage Sword of Conan
(there was a pre-existing Marvel US title of the same name) was first launched as a weekly on 8th March 1975, reprinting American
Conan
and King Kull strips. It was not a notable success and was cancelled after just 18 issues on 5th July the same year, with the Conan strip (rather oddly) being moved into the pages of
The Avengers
, and from there into the
Mighty World of Marvel
weekly for a short time. The Conan strip, which was taken from US Marvel's regular colour monthly (though these reprints were in black and white) later appeared intermittently in issues of
Marvel Comic
,
Valour
and
Future Tense
, and the sulky Cimmerian also featured in his own
Pocket Book
.
Relaunch as a monthly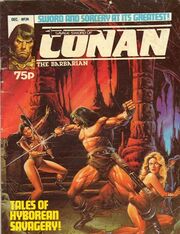 While his appearances in these various other titles continued, in November 1977 Marvel UK relaunched
Savage Sword of Conan
as a 52-page monthly magazine, effectively duplicating the format of the title's US counterpart, and reprinting strips from that counterpart. The monthly version, like the American original, was aimed at an older age group than the strips seen in the weeklies (and the regular US colour title) and was often extremely violent, also frequently featuring a level of (mostly female) nudity which would not have been acceptable in the weeklies. In addition to Conan,
Savage Sword of Conan
also featured occasional reprints of King Kull, woman warrior Red Sonja, and sometimes Puritan adventurer Solomon Kane. With issue #85, in another unusual move, the title absorbed the failed
Mighty World of Marvel
monthly, inheriting the
X-Men
spinoff limited series 'Magik' and a text serial featuring
Night Raven
. The magazine (which had gained some colour pages in its last few issues following the merger with
Mighty World of Marvel
) was cancelled with issue #93 in July 1985, the merger having proved an uneasy fit for fans of both titles. Conan would later return as a feature in
Havoc
in the 1990s.
A Savage Sword of Conan Winter Special was published in 1982, and Conan also appeared in the 1977 and 1978 editions of the Avengers Annual.