Willem Schmidt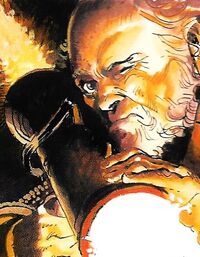 Relatives
Johann the silent preacher (father, deceased)
Base of operations
Mobile
Characteristics
Status
Origin
History
Schmidt was a character in the 2000 AD strip The Order. As a member of the Order it was his job to defend medieval Europe from supernatural evils such as werewolves. His rôle in the group was the manufacture and maintenance of firearms (it was only the thirteenth century, but there seems to have been some damage to the timeline). He also invented the cigarette lighter several centuries too early. Schmidt, Blazen, Iron John, Ritterstahl and Anna Kohl saved the human race by preventing monstrous otherworldly 'wurms' from invading Earth. (This involved using a Schmidt-made explosive to cause a river to flood the wurms' base.) Schmidt himself died after detonating himself with one of his own 'bombes' when a wurm had him in its maw, but Blazen kept the cigarette lighter as a memento.
Schmidt was a wise and compassionate man who took care of his more fragile comrades, especially the ergot addict Blazen (his best friend) and the senile Iron John.

Powers and abilities
Abilities
Armed combat; inventing devices such as the 'twin-tube shoot-gunne', grenades, etc.
Strength level
Very fit elderly human male.

Paraphernalia
Transportation
Horse.
Weapons
Twin-tube shoot-gunne.

Notes
From his dialogue, Schmidt seems to have been a devout Christian.
Links
Discover and Discuss
Ad blocker interference detected!
Wikia is a free-to-use site that makes money from advertising. We have a modified experience for viewers using ad blockers

Wikia is not accessible if you've made further modifications. Remove the custom ad blocker rule(s) and the page will load as expected.