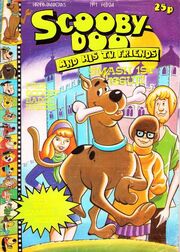 Scooby Doo and His TV Friends
was a weekly comic published by
Marvel UK
from 1982 which reprinted American material based on the Hanna-Barbera characters (including
Yogi Bear, Dastardly and Muttley, the Jetsons, The Flintstones, Huckleberry Hound, Hong Kong Phooey
and
Inch-High Private Eye
). The reprints came from a number of sources with minimal original material. It lasted for at least 62 issues. There were also Summer and Christmas Specials published in 1982.
Ad blocker interference detected!
Wikia is a free-to-use site that makes money from advertising. We have a modified experience for viewers using ad blockers

Wikia is not accessible if you've made further modifications. Remove the custom ad blocker rule(s) and the page will load as expected.