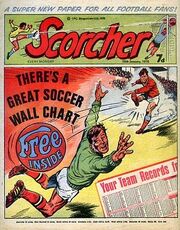 Scorcher was a football themed comic/magazine published by
IPC
from January 10th 1970 to 5th October 1974, although to be pedantic, it actually became
Scorcher and Score
from 3rd July 1971 after being merged with the failed title
Score 'n' Roar
. Strips featured included
Hot Shot Hamish
,
Sub
(by
Ken Reid
),
Royal's Rangers
(by
Leslie Branton
),
Paxton's Powerhouse
(by
Barrie Mitchell
),
Bobby of the Blues
,
Kangaroo Kid
,
Byrd of Paradise Hill
,
Lags Eleven
, and later (after the merger with Score)
Nipper
,
Billy's Boots
,
Manager Matt
(by
Ken Reid
),
Jack of United
and
Jimmy of City
. It was eventually cancelled and merged with
Tiger
.
Scorcher Annuals were published from 1971 to 1984, and there were Scorcher or Scorcher & Score Holiday Specials from 1970 to at least 1980. There were 77 issues of Scorcher in all, and a further 171 issues of Scorcher and Score.
Ad blocker interference detected!
Wikia is a free-to-use site that makes money from advertising. We have a modified experience for viewers using ad blockers

Wikia is not accessible if you've made further modifications. Remove the custom ad blocker rule(s) and the page will load as expected.