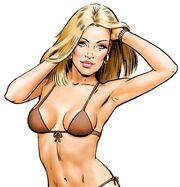 Scorer
, apparently the brainchild of editor
John Allard
, was written by
Barrie Tomlinson
throughout its run and drawn by
Barrie Mitchell
in its first year,
John Gillatt
for much of the 1990s, and 
David Sque
until the end of its run (with
David Pugh
and
Martin Baines
acting as colourists in the mid to late 2000s). It began running in the
Daily Mirror
in 1989 and ran until February 19th 2011. It was a football/adventure serial much like
Pete Nash
's
Striker
, which ran in rival paper
The Sun
, and the success of which seems to have prompted
Scorer'
s creation. Tonally, the strip was about halfway between the much darker and more adult
Striker
, and the more wholesome
Roy of the Rovers
, the latter of which Tomlinson had previously been the editor of.
Scorer centred on the adventures of footballer Dave Storry of Tolcaster FC both on and off the pitch. The other significant characters in the strip were Storry's Danish air hostess (and later model) girlfriend Ulrika, who had the last word in the final strip, declaring that they would "live happily ever after"; Storry's strict and much put-upon Scottish manager Jack Hocherty; and Paul Glazier, a fun-loving and occasionally alcoholic midfielder who was clearly inspired by real-life footballer Paul Gascoigne.
Scorer by John Gillatt.
Ad blocker interference detected!
Wikia is a free-to-use site that makes money from advertising. We have a modified experience for viewers using ad blockers

Wikia is not accessible if you've made further modifications. Remove the custom ad blocker rule(s) and the page will load as expected.