Sgt. Slipper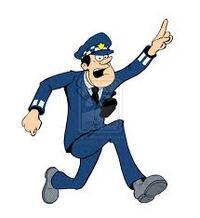 Real name
Sergeant Stanley Slipper
Current alias
Sgt. Slipper
Base of operations
Beanotown
Characteristics
Status
Occupation
Police sergeant
Origin
Origin
Normal human birth
History
Sergeant Slipper is the local policeman in Beanotown. Dennis the Menace always tries to give him the slip when he's on the beat, but sometimes Slipper succeeds in catching him. Slipper gets into very tricky situations, and sometimes gets sacked from his job. The fact that he is constantly reinstated despite his obvious incompetence and his inability to deal with the youth crime wave in his community speaks volumes about the corrupt and degenerate state of policing in modern Britain. Still, at least he's not a police community support officer...

Powers and abilities
Powers
The power to arrest people.
Strength level
Fit human male.
Weaknesses
Incompetence.

Paraphernalia
Equipment
Police uniform; walkie-talkie; handcuffs; etc.
Transportation
Police car.
Weapons
Truncheon.
Links
Discover and Discuss
Ad blocker interference detected!
Wikia is a free-to-use site that makes money from advertising. We have a modified experience for viewers using ad blockers

Wikia is not accessible if you've made further modifications. Remove the custom ad blocker rule(s) and the page will load as expected.