Sharon Allen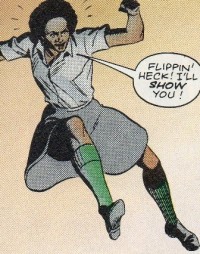 Current alias
Sharon Allen
Relatives
Vernor Allen (husband)
Base of operations
Unicepter IV
Characteristics
Status
Origin
Origin
Normal human birth
History
Sharon was a schoolgirl living in the town of Blackcastle in the North of England when she and her friend Fudge Higgins found the alien criminal Beep the Meep following the crash of his spacecraft, and were duped into helping him escape his pursuers the Wrarth Warriors, an intergalactic police unit.
Betrayed and threatened by the Meep (who tried to turn Blackcastle into a black hole), Sharon was saved by the Time Lord known as the Doctor, and elected to join him on his travels. She went on to face threats such as the Daleks and Brimo, the Time Witch.
Shortly afterwards, Sharon was forcibly aged four years in seconds by accident when the Doctor's TARDIS went through a space/time rift created by Brimo. After several adventures, Sharon met and fell in love with an artist named Vernor Allen on the planet of Unicepter IV, and decided to remain with him and start a new life since, having aged into her early twenties overnight, she felt that she no longer had any reason to go back to Earth. Sharon later married Vernor and became a vidcast journalist, helping the Doctor to defeat the ruthless Josiah W. Dogbolter.

Paraphernalia
Transportation
The TARDIS.

Notes
Sharon's full name was never revealed in the Doctor Who strip, but was viewed on a screen by the mechanoid bounty hunter Death's Head in Death's Head #8.
Rather oddly, no indication is ever given that either the Doctor or Sharon herself give a second's thought to how her parents will have reacted to their teenage daughter's permanent disappearance in the company of what appeared to be a middle-aged hippy.

Trivia
Sharon first appeared in the story The Star Beast.
Links
Discover and Discuss
Ad blocker interference detected!
Wikia is a free-to-use site that makes money from advertising. We have a modified experience for viewers using ad blockers

Wikia is not accessible if you've made further modifications. Remove the custom ad blocker rule(s) and the page will load as expected.