Shiner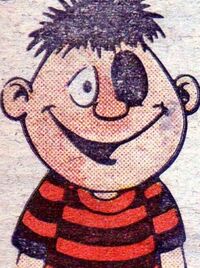 Characteristics
Status
Origin
History
Shiner was the leader of the "Chip-Ite" faction in the
Whizzer and Chips
comic, and featured on the front cover of the
Chips
insert throughout the title's run (except in the first issue, in which this position was held by
Sid's Snake
). He was a little boy who was an amateur boxer. One way or another, though he hadn't a malicious bone in his body, he always seemed to end up with a black eye, to which he would frequently hold a slice of raw steak — much to the annoyance of his nagging Mum!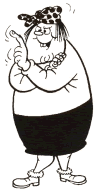 Shiner, who had an ongoing friendly rivalry with his "Whizz-Kid" counterpart
Sid
, was also the host of the
Chips
insert's letters page.
Powers and abilities
Abilities
Boxing.
Strength level
Juvenile human male.
Weaknesses
The frequently repeated periorbital trauma can't be doing his eye much good.

Notes
Shiner usually wore a blue and black (or sometimes red and black) striped jersey and black shorts.

Trivia
Shiner's Mum (who originally had a large role in the strip) was pretty much identical to Mrs. Bumpkin of the Bumpkin Billionaires from Whoopee!, probably because the two strips had the same artist, Mike Lacey.
Links
Discover and Discuss
Ad blocker interference detected!
Wikia is a free-to-use site that makes money from advertising. We have a modified experience for viewers using ad blockers

Wikia is not accessible if you've made further modifications. Remove the custom ad blocker rule(s) and the page will load as expected.