Ad blocker interference detected!
Wikia is a free-to-use site that makes money from advertising. We have a modified experience for viewers using ad blockers

Wikia is not accessible if you've made further modifications. Remove the custom ad blocker rule(s) and the page will load as expected.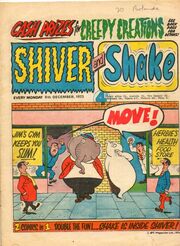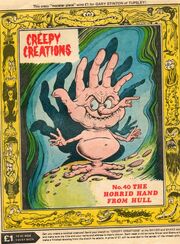 Published by
IPC
from 10th march 1973-5th October 1974 (83 issues), Shiver & Shake was mainly horror themed comic (albeit comedic horror) in the same vein as the later title
Monster Fun
(
Frankie Stein
appeared in both titles. Like IPC's long running
Whizzer and Chips
title, Shiver & Shake purported to be two comics in one, with
Shiver
(a ghost) and
Shake
(curiously, an elephant) being the 'hosts' of the respective titles (each of them also had a one page strip). Other strips featured included
Creepy Car
,
The Duke's Spook
,
Scream Inn
,
Hire a Horror
(originally from
Cor!
),
Horrornation Street
,
Biddy's Beastly Bloomers
,
Grimly Feendish
,
Ghoul Getters Ltd
,
Ghouldilocks
,
Malice in Wonderland
,
Hot Dog and Cool Cat
,
Sweeny Toddler
,
The Hand
,
Soggy the Sea Monster
,
Webster
,
Ye Haunted Lake
,
The Shiver Givers
,
The Ghost's Revenge
and
Adrian's Wall
(all in the Shiver section) and
The Fixer
,
Blunder Puss
,
Damsel in Distress
,
The Desert Fox
,
Gal Capone
,
Jail Birds
,
Lolly Pop
,
Moana Lisa
,
Riddle Me Ray
,
Sample Simon
,
Sports School
,
Charlie Williams
,
Wizards Anonymous
, and
Tough Nutt and Softy Centre
in Shake (most of the horror themed material, by far the more popular strips, were in Shiver). In addition,
Ken Reid
's
Creepy Creations
, a series of one page pin-ups, ran on the back covers. After cancellaion, Shiver & Shake merged with
Whoopee!
, with many of the more popular strips (including Lolly Pop, Sweeny Toddler, Creepy Car, Frankie Stein and Scream Inn) becoming long running mainstays of that title.