Shuggy Bear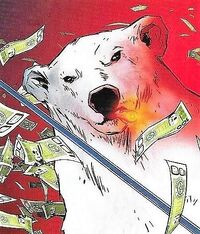 Current alias
Shuggy Bear
Base of operations
Shuggy's (Mega-City One)
Characteristics
Unusual features
He's a polar bear
Status
Occupation
Shuggy hall proprietor
Origin
Origin
Experimented on by humans
History
Shuggy Bear is a polar bear with artificially augmented human-level intelligence and the power of speech, a former experimental subject freed by the 'Dredd Act'. He now runs a shuggy hall (shuggy being a 22nd century variant of billiards) and is an associate of Lenny Zero and Max Normal. Shuggy Bear financed Lenny Zero's audacious scheme to steal over a billion creds from Justice Department, with the help of Normal, Orlok's satellat, a psychic called Mink and a DJ called Afro Dizzy. The plan was successful, but all the money was then stolen from the gang by a sentient ATM called Johnny Cash, who used it to escape to a paradise planet with no extradition treaty. Shuggy Bear was sanguine in the face of this unexpected disaster.
As he doesn't know that Zero used to be a Judge, Shuggy Bear doesn't understand why he is obsessed with outwitting them. Shuggy prefers not to tangle with the Judges, because (a) that makes for a quieter life, and (b) the Dredd Act saved him from a life of imprisonment and torture. He has a cautious, sceptical and stoical personality, and is also a loyal friend who has bankrolled a few of Zero's shady dealings in the past.

Powers and abilities
Abilities
Playing shuggy; running a small business.
Strength level
Considerably stronger than human.
Weaknesses
Cigars.

Paraphernalia
Equipment
Shuggy cue.
Weapons
Teeth and claws.

Trivia
There is a 'wanted' notice on the wall of Shuggy's premises depicting a polar bear who appears to be the former 2000 AD star Shako. It's just possible they might be related...
Links
Discover and Discuss
Ad blocker interference detected!
Wikia is a free-to-use site that makes money from advertising. We have a modified experience for viewers using ad blockers

Wikia is not accessible if you've made further modifications. Remove the custom ad blocker rule(s) and the page will load as expected.