Silent Weerd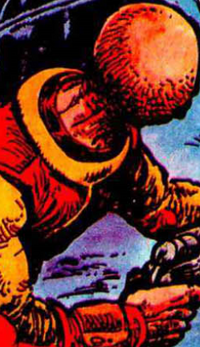 Characteristics
Unusual features
Has no features
Status
Occupation
Rogue Strontium Dog
Origin
Origin
Mutated by strontium-90
Place of death
Neverglade swamp, Blas
History
Silent and his brothers Cuss and Hiss Weerd were mutants who fought alongside Johnny Alpha during the first mutant war. At the end of the war they became Strontium Dogs.
At some point the three brothers became trapped in the Hell-World dimension at the City of Hate. They managed to steal three tickets which would have allowed for their escape, only to be shot down by Alpha and his partner Wulf Sternhammer. However as death was impossible in Hell-World, they quickly regenerated from their wounds and promised revenge on the pair.
After finally escaping the three put their plan of revenge into focus and became workers for the poacher Cruso Slugg. They led Slugg to the planet Blas in the Gallego system where they began to slaughter the native Gronks in their thousands for their master to eat. The Weerd brothers then sent out a fake SOS to bait Alpha and Sternhammer in an attempt to kill them.
Eventually the three brothers had a last stand against their pursuers in a murky swamp, near their crashed spaceship. Silent was killed a blow from Sternhammer's Happy Stick knocked him into an ejector seat button and the seat blasted him into the mouth of one of the swamp's beasts. Silent never knew what killed him.

Powers and abilities
Weaknesses
Can't actually see, smell or make a sound. Why is this guy a bounty hunter? He makes Jones the Voice look like Johnny Alpha.

Paraphernalia
Transportation
Giblet Queen
.
Weapons
Blaster.
Links
Discover and Discuss
Ad blocker interference detected!
Wikia is a free-to-use site that makes money from advertising. We have a modified experience for viewers using ad blockers

Wikia is not accessible if you've made further modifications. Remove the custom ad blocker rule(s) and the page will load as expected.