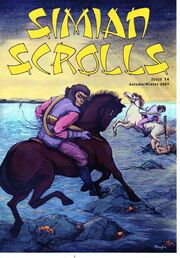 Simian Scrolls
is a semi-professionally produced fanzine dedicated to
Planet of the Apes
, produced by John Roche since Summer 2000. It has on occasion run original comic strips including
Ape Kingdom: The Hermit
by Roche and wayne Tully,
Beauty in the Forbidden Zone
by Ian Ward and Roy Mitchell,
Rider from the World's End
by Mike McColm, and the spoof strip
Janet of the Apes
. Seventeen issues were produced by Summer 2012.
Ad blocker interference detected!
Wikia is a free-to-use site that makes money from advertising. We have a modified experience for viewers using ad blockers

Wikia is not accessible if you've made further modifications. Remove the custom ad blocker rule(s) and the page will load as expected.