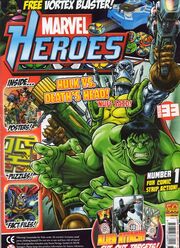 Simon Williams (born 1973) is a Welsh comics artist who has been working professionally in the industry since 2003. His past credits include
Action Man
,
Spectacular Spider-Man
,
Transformers: Armada
,
Hulk
,
Death's Head
and
Marvel Heroes
, all for
Panini
, as well as some work for Marvel comics and IDW in the USA.
Despite being a comics professional who has worked on stories featuring Marvel Comics characters, the artist Simon Williams is in no way connected to the other Simon Williams (alias Wonder Man) who is actually a comics character from Marvel's Avengers. Because he's not real. The Avengers character, that is: Simon Williams the comics artist is almost definitely real. Probably.
Ad blocker interference detected!
Wikia is a free-to-use site that makes money from advertising. We have a modified experience for viewers using ad blockers

Wikia is not accessible if you've made further modifications. Remove the custom ad blocker rule(s) and the page will load as expected.