Sir Hubert Guest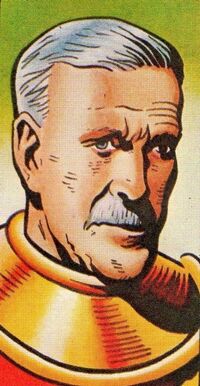 Real name
Sir Hubert Guest
Characteristics
Status
Occupation
Controller of Spacefleet
Origin
Origin
Normal human birth
History
Sir Hubert Guest was a veteran pilot who was on the first mission to the Moon and led the first mission to Mars. He rose to be Controller of Space Fleet and would occasionally accompany his subordinate Dan Dare on missions.

Powers and abilities
Abilities
Guest was an accomplished pilot who kept his skills fresh even after years in a desk job.

Notes
Sir Hubert Guest is possibly the inspiration for the fictional letter-writer Sir Herbert Gussett, found in the pages of British satirical fortnightly magazine Private Eye (available from all good newsagents). Sir Herbert Gussett is apparently a caricature of the sort of person who writes letters to the Daily Telegraph, a British right-wing broadsheet newspaper.
Links
Discover and Discuss
Ad blocker interference detected!
Wikia is a free-to-use site that makes money from advertising. We have a modified experience for viewers using ad blockers

Wikia is not accessible if you've made further modifications. Remove the custom ad blocker rule(s) and the page will load as expected.