Skull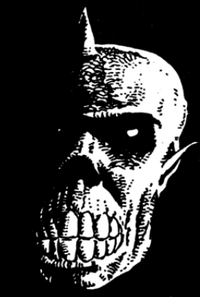 Characteristics
Unusual features
Horned skull for a head
Status
Origin
Origin
Mutated by strontium-90
History
Skull was a member of Max Bubba's gang. He took part in his plan to wipe out humanity, travelling back in time with Bubba to Iceland. He was killed in a fire-fight with Johnny Alpha towards the end — he was shot in the chest several times and stumbled back into a volcanic crater behind him.

Powers and abilities
Abilities
Killing people.
Weaknesses
Blasters; volcanoes.

Paraphernalia
Transportation
Time-travelling machine.
Weapons
Blaster.
Links
Discover and Discuss
Ad blocker interference detected!
Wikia is a free-to-use site that makes money from advertising. We have a modified experience for viewers using ad blockers

Wikia is not accessible if you've made further modifications. Remove the custom ad blocker rule(s) and the page will load as expected.