Skull Swords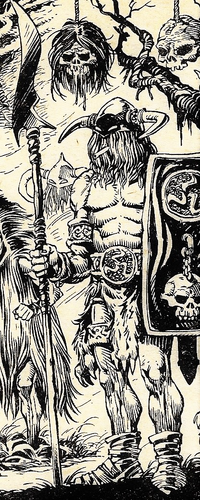 Characteristics
Unusual features
Funny helmets
Status
Origin
First appearance
2000 AD prog 330
History
Skull Swords are characters from the 2000 AD strip Sláine. They are the personal soldiers of the Lord Weird Slough Feg, Slough Throt and the other Drune Lords.
In general, the job of a Skull Sword is to act as brute muscle, killing civilians, looting villages and bringing their masters sacrifices. They made their début in the first ever episode of Sláine, when they wanted to arrest Sláine and Ukko for the impious act of killing a time-monster (a sort of huge dinosaur). The pair foiled them by escaping into the sewers.
Skull Swords were next seen taking a third of the healthy children from a village as 'tribute' so that they could be fed to the Lord Weird Slough Feg. The desperate villagers were told that without their children there would be more food to go around.
Drune Lords like to sacrifice 'criminals' to the worm god Crom-Cruach in a wickerman. When there aren't enough criminals to fill the wickerman, they make the numbers up with Skull Swords.
During the 'Horned King' saga, many Skull Swords turned on their masters after Sláine informed them that they were going to be killed once they had outlived their usefulness. A small number remained loyal, but only ended up being killed by Sláine and his axe Brainbiter.

Powers and abilities
Abilities
Slaughtering civilians; looting and pillaging.
Strength level
Peak human male.
Weaknesses
Their masters view them as expendable.

Paraphernalia
Equipment
Armour; shields.
Transportation
Sky chariots.
Weapons
Swords; spears; crossbows.

Notes
Skull Swords' faces are covered by hair breath masks, because their masters the Drune Lords smell appalling. The Skull Swords breath through little tubes that stick out through the hair.
The triskele the Skull Swords bear on their armour and shields is the symbol of the Guledig.

Trivia
The fact that the initials that stand for 'Skull Swords' are 'SS' is probably not a coincidence.
Links
Discover and Discuss