Sláine MacRoth
Comments

0
975pages on
this wiki
Sláine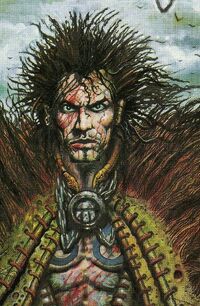 Affiliation
Protegé of Danu, the Earth Goddess
Relatives
Niamh
(wife); Kai (son); Roth Bellyshaker (father, deceased); Mongan Axehead (foster father); Ragall (foster brother, deceased).
Base Of Operations
Ancient Britain
Characteristics
Unusual Features
Has apparently never owned a comb
Status
Occupation
Warrior King; former mercenary
Origin
When he was sixteen Sláine was cast out by his tribe, the Sessair, for an unauthorized liaison with the King's bride-to-be, Niamh. He spent years exploring the Land of the Young in the company of his unscrupulous servant, the dwarf Ukko, and occasionally aided by the druidess Nest. He eventually became embroiled in a war between earthly mystics and alien gods, before finally returning to his people to become their King, leading them against the demonic Fomorians. Blessed by the Earth Goddess, he became a living incarnation of her consort, the Horned God, and eventually the first High King of Ireland. He later gave up his title (after a number of adventures in other time periods as the servant of the Goddess) to Gael, founder of the Gaelic race. Having lost his wife, Niamh, murdered by the evil Moloch, Sláine eventually left his homeland in order to find his missing son, Kai. His adventures continue.

Powers and Abilities
Edit
Powers
Sláine can cause his body to warp into a monstrous, superhumanly-strong form.
Abilities
Making mincemeat of his enemies; composing impromptu verses celebrating his victories.
Strength level
High (when human) or extremely high (when warped).

Paraphernalia
Edit
Transportation
Has been known to use a mammoth, a dragon called the Knucker and a super-dimensional cosmic being or 'macrobe' called Pluke that could only fly if Sláine had altered the cosmic balance by performing a good deed.
Weapons
The axe Brainbiter; the sword Bloodprow.

The correct pronunciation of Sláine's name is uncertain. Prog #589 said that it should be pronounced 'Shlawnye'; prog #626 claimed that either 'Slawnye' or 'Slain' is correct.
Discover and Discuss
Edit