Slaymaster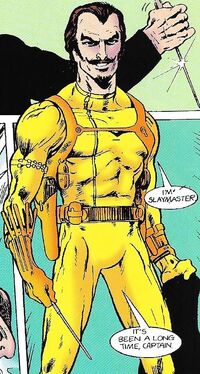 Base of operations
Mobile
Characteristics
Status
Education
Learned to kill in Africa, Vietnam and the Middle East
Origin
Origin
Normal human birth
Place of death
South Bank building site
History
Slaymaster was an assassin for hire who repeatedly clashed with Captain Britain. The two first encountered one another when the Captain tried to prevent Slaymaster from carrying out an assassination in London, and Slaymaster was believed to have been eaten by sharks following their second meeting a short time later. He resurfaced though, several years later, deadlier than ever and now working as a subcontractor for the assassin named Arcade, for whom he tried to murder Captain Britain's sister Betsy Braddock and the other members of the Psi-Division of S.T.R.I.K.E. Of the ten members of the Psi-Division, only three escaped his assassinations: Betsy, Alison Double and Tom Lennox.
Slaymaster was defeated by Captain Britain and jailed after a fight at Denmark Street's Forbidden Planet bookshop, but soon escaped and entered the employ of the crime boss named Vixen, Arcade's former employer. He clashed with Captain Britain again, using the extra-dimensional Crazy Gang as unwitting pawns, and briefly stole the Captain's costume thinking it would give him power; unfortunately, the Captain controlled the suit's circuitry telepathically, forcing Slaymaster to beat himself up!
Months later, he returned again and blinded Betsy Braddock, who had taken on her brother's rôle as Captain Britain. The original Captain, angered by this, came out of retirement and, in a fit of rage, killed Slaymaster by caving his head in with a rock.

Powers and abilities
Abilities
Master of all known forms of armed and unarmed combat, and of disguise. Has incredibly well developed muscles on his left arm. His left hand has been deliberately calloused and the callous sharpened, effectively turning the entire hand into a blade.
Strength level
Peak human male.
Weaknesses
In his first story he was shown smoking a cigar.

Paraphernalia
Equipment
'Atomic wristlets'; lasso; power suit which enhanced his strength (created for him by the Vixen's scientists); giant mutant gila monster; giant robot snake; floating skull which can zap people; grey nurse shark; monogrammed cigar lighter; bullet-proof vest.
Transportation
Jet belt; atomic-engined rocket car which can turn into a mini-jet.
Weapons
Various, including guns, a gas gun which can knock people unconscious, and a 'jazzler' which can penetrate a force field and paralyse its target. Seems particularly fond of stilettos.

Notes
Slaymaster was originally depicted as a British-born masked assassin with a Cockney accent. In his later appearances, written by Alan Moore and drawn by Alan Davis, he seemed to have converted to Islam, and was drawn as though he had Arab ancestry.
Links
Discover and Discuss
Ad blocker interference detected!
Wikia is a free-to-use site that makes money from advertising. We have a modified experience for viewers using ad blockers

Wikia is not accessible if you've made further modifications. Remove the custom ad blocker rule(s) and the page will load as expected.