Sleekswift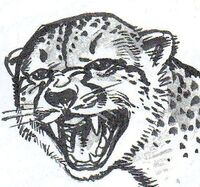 Relatives
Shabel (mother, deceased)
Base of operations
Africa
Characteristics
Unusual features
He's a cheetah
Status
Origin
History
Sleekswift was the only son of Shabel the cheetah (though she did also have several daughters), and the only one of his family quick enough to get out of the way when a burning tree collapsed on them as they tried to escape a forest fire. The fire had been caused by poachers trying to smoke out animals in order to get some easy kills, but they made a mistake when they tried to shoot Sleekswift. Despite being winged by a bullet, more by luck than judgement, the fleeing feline led his pursuers in their Jeep over a cliff into a ravine (Sleekswift himself jumped safely to the other side). The bodies of the poachers were later found by a district game warden, but Sleekswift was by then many miles away (though presumably still bleeding).

Powers and abilities
Abilities
He can run very fast.
Strength level
Average for a cheetah of his age and size who engages in regular intensive exercise.
Weaknesses
Well, he's no Einstein. But then, he's a cheetah.

Paraphernalia
Weapons
Claws and fangs.
Links
Discover and Discuss
Ad blocker interference detected!
Wikia is a free-to-use site that makes money from advertising. We have a modified experience for viewers using ad blockers

Wikia is not accessible if you've made further modifications. Remove the custom ad blocker rule(s) and the page will load as expected.