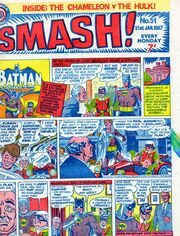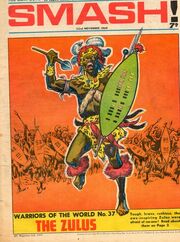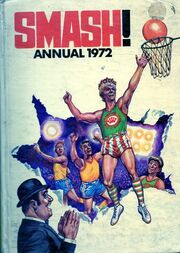 Smash!
was initially one of the
Odhams Power Comics
line published by
Odhams
from 15th February 1966 until 15th March 1969, from which point it continued to be published by
IPC
(following the dissolution of Odhams) until 3rd April 1971. For much of its run it featured a mix of British-originated humour and adventure strips including
Bad Penny
,
The Nervs
, and
Grimly Feendish
(initially by
Leo Baxendale
, then drawn by other artists); 
The Swots and the Blots
(by
Ron Spencer
.
Mike Lacey
and, from March 1969, by
Leo Baxendale
); 
Queen of the Seas
(by
Ken Reid
); 
Space Jinx
,
Charlie's Choice
and
Moon Madness
(by
Brian Lewis
);
The Legend Testers
(by
Jordi Bernet
); 
Ronnie Rich
(by
Gordon Hogg
) and
It's the Rubberman
. There were also reprints of American material including
Batman
(from the Sunday newspaper strip); 
Daredevil
; 
Fantastic Four
;
Avengers
; and
Incredible Hulk
. (Notably,
Smash!
#38 also contained a one-off British-originated
Hulk
strip, the first British-originated strip to star a Marvel character, some years before the creation of
Marvel UK
).
Later, following the absorption by Smash! of sister title Pow! it also gained Spider-Man, as well as the UK-originated strips The Cloak by Mike Higgs and Brian's Brain. After incorporating Fantastic it gained Thor as well. When Smash! was taken over by IPC, however, all US reprint material was dropped.
Later additions included Cursitor Doom by Eric Bradbury and Erik the Viking by Don Lawrence (the latter being reprinted from Lion) as well as Master of the Marsh; His Sporting Lordship; King of the Ring; Bunsen's Burner; Janus Stark; Sergeant Rock — Paratrooper; The World Wide Wanderers; Rebbels on the Run (later The Rebbel Robot); Nutt & Bolt, the Men from W.H.E.E.Z.E; Send for...Q-Squad; The Handcuff Hotspurs; Touchline Tearaways; the superheroic Tri-Man; Monty Muddle — the Man from Mars (in fact, a retitled reprint from Buster); Kid Commandos; Consternation Street; The Thirteen Tasks of Simon Test; Threat of the Toymaker; Ghost Ship; The Pillater Peril; Birdman of Baratoga; Sam's Spook; The Haunts of Headless Harry; Nick and Nat — The Beat Boys (in fact a retitled reprint from Wham!); Wiz War; The Battle of Britain; Wacker; Big Ead; Sammy Shrink and Percy's Pets. Following its cancellation, Smash! was merged with Valiant. Smash! Annuals were published from 1967 to 1976.
Ad blocker interference detected!
Wikia is a free-to-use site that makes money from advertising. We have a modified experience for viewers using ad blockers

Wikia is not accessible if you've made further modifications. Remove the custom ad blocker rule(s) and the page will load as expected.