Soolin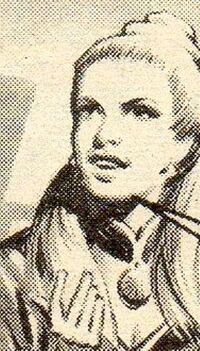 Characteristics
History
Soolin was an orphan whose parents were killed on the planet Gauda Prime. She developed a talent for sharpshooting and became a ruthless gunslinger, ending up as 'companion' to the immortal madman Dorian before fate (and the untrustworthy Dorian) brought her into contact with the would-be revolutionaries Blake's 7 and she joined their fight against the tyrannical Terran Federation for reasons of her own. Eventually, Soolin apparently died on Gauda Prime along with the rest of the seven after walking into a Federation trap while searching for Roj Blake.

Paraphernalia
Equipment
Teleport bracelets
Weapons
Principally guns of her own design, though Soolin was proficient with most firearms.

Notes
Soolin originated in the BBC TV series Blake's 7, and was featured in Blake's 7: A Marvel Monthly, published by Marvel UK. Her final fate in the TV series was never referenced in the Blake's 7 comic strips.
Links
Discover and Discuss
Ad blocker interference detected!
Wikia is a free-to-use site that makes money from advertising. We have a modified experience for viewers using ad blockers

Wikia is not accessible if you've made further modifications. Remove the custom ad blocker rule(s) and the page will load as expected.