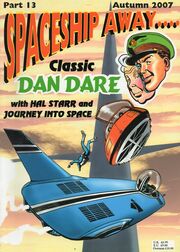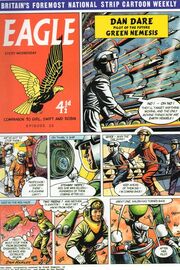 Spaceship Away
is a quarterly comic magazine originally published by
Rod Barzilay
since 2003 primarily for the purpose of continuing the adventures of
Dan Dare
in the style of the original
Eagle
(to which end, he initially recruited artists
Keith Watson
and
Don Harley
, both of whom had worked on the original Eagle strip at various times, though sadly Watson died years before the project finally got off the ground, having only completed one episode of a new Dare strip). So determined was Barzilay to make the strip as authentic-looking as possible that every lead strip begins with a page drawn in the style of the front cover of the original
Eagle
complete, with logo and price.
Spaceship Away later expanded its remit to include other sci-fi strips in a classical style, including Sydney Jordan's Hal Starr, a revival of newspaper strip Garth and a strip based on Charles Chilton's radio serial Journey into Space, as well as one-page humour strips based on the Dan Dare cast such as Mekki, Dan Dire, Dan Bear and Our Bertie. The risqué humour strip Space Girls proved less of a good fit and lasted only two episodes.
The magazine is effectively a semi-professional 'fanzine', but its content (particularly in terms of the art) is easily on a par with, if not above, the majority of the professionally produced British comics of its era. Its website is here.
Interviewed in Judge Dredd Megazine #390, Rod Barzilay said that, "We wanted to emulate the 1950s stories or as near as we could damn well get it. That was very important for us older fans who grew up with the original Dan Dare, as that was the Dan Dare that we always wanted ... There were all those weird and wonderful stories in 2000 AD, but he just wasn't the same character, as he was using strange language and kept on being very violent."
Barzilay departed from the magazine in 2011, replaced by Des Shaw.