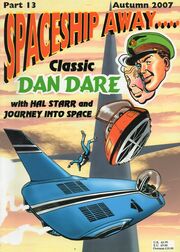 Spaceship Away is a quarterly comic magazine published by
Rod Barzilay
since 2003 primarily for the purpose of continuing the adventures of
Dan Dare
in the style of the original
Eagle
(to which end, he initially recruited artists
Keith Watson
and
Don Harley
, both of whom had worked on the original Eagle strip at various times, though sadly Watson died years before the project finally got off the ground, having only completed one episode of a new Dare strip). So determined was Barzilay to make the strip as authentic looking as possible, that every lead strip begins with a page drawn in the style of the front cover of the original Eagle complete with logo and price! The magazine later expanded its remit to include other sci-fi strips in a classical style, including
Sydney Jordan
's
Hal Starr
, a revival of newspaer strip
Garth
and a strip based on Charles Chilton's radio serial
Journey into Space
, as well as one page humour strips based on the Dan Dare cast such as
Mekki
,
Dan Dire
,
Dan Bear
and
Our Bertie
. The risque humour strip
Space Girls
proved less of a good fit and lasted only two episodes. The magazine is effectively a semi-professional 'fanzine', but its content (particularly in terms of the art) is easily on a par with, if not above, the majority of the professionaly produced British comics of its era.
Ad blocker interference detected!
Wikia is a free-to-use site that makes money from advertising. We have a modified experience for viewers using ad blockers

Wikia is not accessible if you've made further modifications. Remove the custom ad blocker rule(s) and the page will load as expected.