The Rudinshtein Irregulars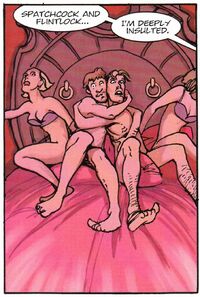 Real name
Yuri Spatchcock & Lord Peter Flintlock
Current alias
The Rudinshtein Irregulars
Characteristics
Origin
History
Lord Peter Flintlock was a disgraced member of the English aristocracy. Yuri Spatchcock was a petty criminal from the dregs of society. And from the moment these two dissolute rogues met, they were pretty much inseparable, united by their love of larceny, lechery and an easy life, and their fear of any kind of personal risk... which was a shame, since they were both members of the Rudinshtein Irregulars, a motley crew of soldiers under the command of Nikolai Dante, and were never very far from trouble!
After serving by Dante's side for a surprisingly long time, often unwillingly, the unlikely duo's partnership was ended during the final war with Dmitri Romanov, when Flintlock was killed in action. In a rather satisfying turn of events, "His Lordship," as Spatchcock referred to him, was then revealed to have left his entire not inconsiderable share of the Flintlock fortune to Spatchcock, effectively elevating him to the upper echelons of society and, not uncoincidentally, thoroughly irritating Flintlock's disapproving family... something that would undoubtedly have delighted him!

Powers and abilities
Abilities
Natural cunning.
Strength level
Negligible.
Weaknesses
Wine, women and song.

Paraphernalia
Weapons
Yes.
Links
Discover and Discuss
Ad blocker interference detected!
Wikia is a free-to-use site that makes money from advertising. We have a modified experience for viewers using ad blockers

Wikia is not accessible if you've made further modifications. Remove the custom ad blocker rule(s) and the page will load as expected.