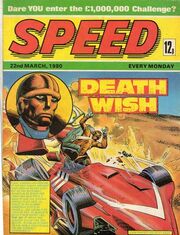 Speed was launched by
IPC
on 23rd February 1980, and ran for 31 issues until 25th October 1980 before being merged with the long running sports themed comic
Tiger
. Speed was an adventure comic with an eclectic mix of strips including
Journey to the Stars
by
Ron Turner
(a lightweight sci-fi strip about a family stranded in space),
Baker's Half Dozen
by
Mike Western
(a war strip which wouldn't have been out of place in
Battle
),
Topps on Two Wheels
 (starring cycle motorchampion Eddie Topps) and and probably the title's most successful series,
Death Wish
, about a disfigured stuntman who takes absurd risks because he no longer cares whether he lives or dies.
Death Wish
outlasted not only
Speed
but also
Tiger
, ending up in the pages of
Eagle
after the latter title folded in March 1985.
Speed
annuals were published in 1981 and 1982.
Ad blocker interference detected!
Wikia is a free-to-use site that makes money from advertising. We have a modified experience for viewers using ad blockers

Wikia is not accessible if you've made further modifications. Remove the custom ad blocker rule(s) and the page will load as expected.