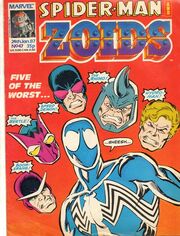 Spider-Man and Zoids
, a follow-up title to
Spider-Man Comics Weekly
, was published by
Marvel UK
between March 1986 and February 1987 and ran for 51 issues in total. It featured reprints of of issues of the American
Spider-Man
, alongside new, UK-originated
Zoids
stories by Ian Rimmer,
Grant Morrison
,
Steve Yeowell
and
Kev Hopgood
('Zoids' was a short-lived 1980s toy line featuring robot dinosaurs, which spawned various spin-offs). 
David Hine
inked issue 47.
In addition there was usually a second back-up strip, reducing the number of pages of Spider-man in those issues. These were: Sectaurs, Fantastic Four, Star Wars, Star Brand, Strikeforce Morituri and the epilogue to Secret Wars II from Avengers.
Reprints of US Spider-man material had fallen far behind by this point and several cross-overs with Secret Wars II had to be accomodated. This combined with the limited space in each issue devoted to Spider-man meant that only a minority of US issues from 1984 to 1986 were reprinted. Reprints were often edited for space and stories were presented out of sequence with alterations to the text used to remove continuity errors.
The Spider-man content in issue 24 was created by editing together various out of context sections of the US comic book Peter Parker, the Spectacular Spider-man which showed the alien costume making it's way to Peter Parker's apartment, along with the Black Cat sewing a cloth version of the black costume and their break-up.
Ad blocker interference detected!
Wikia is a free-to-use site that makes money from advertising. We have a modified experience for viewers using ad blockers

Wikia is not accessible if you've made further modifications. Remove the custom ad blocker rule(s) and the page will load as expected.