Spratt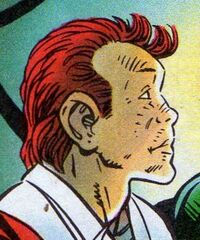 Characteristics
Status
Origin
History
Spratt was an opportunistic young man from the Los Angeles Resettlement Area in the year 8162 who somehow talked the time-travelling mechanoid bounty hunter Death's Head into accepting him as his 'partner' (or to be more accurate, his assistant and general dogsbody) after he rebuilt the damaged mech. Spratt was devastated when Death's Head apparently died, and asked Baron Strucker of 2020 AD, a descendant of a notorious 20th century war criminal, to revive him. Strucker had other plans however, and fused himself with Death's Head's 'corpse' (the mechanoid's mind was actually safe within the body of the cyborg Death's Head II ) to become the monstrous Charnel. With the help of a future version of the heroic Scarlet Witch, Death's Head II and his partner Tuck destroyed Charnel, but not before Charnel killed Spratt. His former partner never even knew his fate.

Powers and abilities
Abilities
Spratt was a gifted mechanic with an instinct for repairing things.
Links
Discover and Discuss
Ad blocker interference detected!
Wikia is a free-to-use site that makes money from advertising. We have a modified experience for viewers using ad blockers

Wikia is not accessible if you've made further modifications. Remove the custom ad blocker rule(s) and the page will load as expected.