Spud Murphy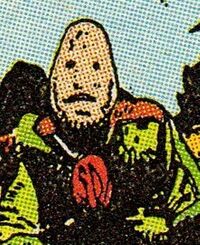 Current alias
Spud Murphy
Characteristics
Unusual features
Looks like a Mr Potato Head
Status
Origin
Origin
Mutated by strontium-90
Place of birth
Northern Ireland
First appearance
Death
Unknown
History
Spud was one of the Strontium Dogs (mutant Search/Destroy Agents) sent to root out Johnny Alpha and his allies from hiding when Nelson Bunker Kreelman took control of the Agency. When Spud realised that Johnny's gang were being falsely accused, he chipped in on their side. Injured while attempting to infiltrate the Agency's orbital base, the Doghouse, Spud instructed his comrades to leave him behind as he'd only slow them down. He had only time to emit a plaintive "Begorrah!" before he was found and fried by the Stix Brothers.

Powers and abilities
Abilities
Proficient bounty hunter.
Strength level
Peak human.

Paraphernalia
Weapons
Blaster.

Trivia
The name Fintan was later given to Judge Fintan Joyce, son of Judge-Sergeant Charles Joyce.
Links
Discover and Discuss
Ad blocker interference detected!
Wikia is a free-to-use site that makes money from advertising. We have a modified experience for viewers using ad blockers

Wikia is not accessible if you've made further modifications. Remove the custom ad blocker rule(s) and the page will load as expected.