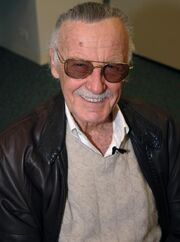 Stan Lee (born Stanley Martin Lieber in New York City on 28th December 1922) is one of the most significant figures in the history of the comics industry worldwide. He began working in comics in 1939, doing menial jobs for Timely Comics, the owner of the company (Martin Goodman) being the husband of Stan's cousin and regarding Stan as a 'nephew'. After making his writing debut on a
Captain America
text story in 1941 (under the pseudonym 'Stan Lee', which later became his legal name), Lee — who was appointed editor of the company by Goodman aged just 19 following the departure of Joe Simon — then graduated to writing comic stories and in 1961 revolutionized the industry by creating the
Fantastic Four
, the title which effectively ushered in the Silver Age of comics; Lee's characters differed from virtually all those previously published in that they were depicted as real people with real problems, a marked change to the two dimensional creations which had preceded them. Lee, along with collaborators including
Jack Kirby
and Steve Ditko, went on to create the Mighty
Thor
,
Spider-Man
, the
Hulk
, Iron Man, the
X-Men
, Dr Strange, the Silver Surfer, the
Avengers
and hundreds more characters which helped make the newly rechristened 'Marvel Comics' a world leader. He continued to write the majority of Marvel's output (and to edit all of it) throughout the 1960s before succeeding Goodman as publisher in 1972. In 1979, Lee appointed
Dez Skinn
to run the company's British division
Marvel UK
, apparently seeing much of himself in him. Lee moved away from writing in the 1970s (though he continued to write the syndicated Spider-Man newspaper strip and to work on occasional projects such as 'She-Hulk' in the late 70s and 'Ravage 2099' in the 90s) and moved to California in 1981 to oversee Marvel's various movie projects. In 2003, he developed the racy cartoon superheroine 'Stripperella' (voiced by Pamela Anderson). He continues to be involved in comics, TV and movie projects as of the time of writing. He makes a point of making cameo appearances in virtually every movie based on a Marvel property.
Stan Lee shares his name with the Judge Dredd villain Stan Lee (Deathfist).
Ad blocker interference detected!
Wikia is a free-to-use site that makes money from advertising. We have a modified experience for viewers using ad blockers

Wikia is not accessible if you've made further modifications. Remove the custom ad blocker rule(s) and the page will load as expected.