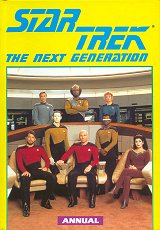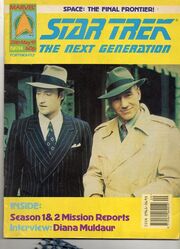 Magazine and Annual
Star Trek; The Next Generation was a Marvel UK reprint title initially published fortnightly and later (from #20) monthly from October 1990-January 1992. It carried a mix of licensed comic strips based on Star Trek TNG, episode guides and cast interviews. It lasted 24 issues. There was also an Annual issued in late 1991, for 1992.
Previous Marvel UK Star Trek Material
Marvel UK had previously published a 1981 Star Trek Annual featuring an adaptation of Star Trek the Motion Picture, and a number of original Marvel Star Trek strips set immediately after that movie (as well as a serialised black & white version of the movie adaptation itself) appeared in the pages of Future Tense.
Ad blocker interference detected!
Wikia is a free-to-use site that makes money from advertising. We have a modified experience for viewers using ad blockers

Wikia is not accessible if you've made further modifications. Remove the custom ad blocker rule(s) and the page will load as expected.