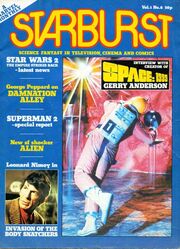 Starburst is a British science fiction dedicated primarily to film and TV, launched in 1977 by editor
Dez Skinn
under the name of his own company Starburst Publishing. When Skinn took a position with
Marvel UK
in 1979, he took Starburst with him as part of the deal and Marvel published it for the next several years, eventually selling it in 1985 to Visual Imagination, who published it from issue #88 (Skinn had already parted company with Marvel in 1981). The magazine ceased publication with #365 in 2009 when Visual Imagination folded, but an online version continued. The print version returned in February 2012 with issue #374, now published by Starburst Magazine Ltd.
Ad blocker interference detected!
Wikia is a free-to-use site that makes money from advertising. We have a modified experience for viewers using ad blockers

Wikia is not accessible if you've made further modifications. Remove the custom ad blocker rule(s) and the page will load as expected.