Starhawk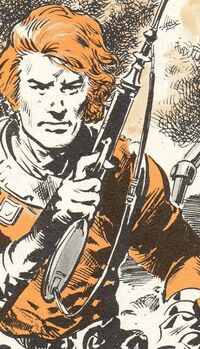 Base of operations
Mobile
Characteristics
Status
History
Sol Rynn, alias Starhawk, was a roving lawman who brought justice to the scattered worlds of the slowly disintegrating Terran Empire in the 26th century AD, along with his trusty robot sidekick, Droid. They rode in a ship called the Space Rider and answered SOS calls sent out using special SOS cards of Rynn's own design.

Powers and abilities
Strength level
Peak human male.

Paraphernalia
Equipment
Droid.
Transportation
Space Rider
.
Weapons
Space-age gun.

Notes
Starhawk originated in The Crunch before transferring to Hotspur, and later appeared in Starblazer, Victor, Spike and (as 'Young Starhawk') Buddy, as well as three Hotspur annuals.
Links
Discover and Discuss
Ad blocker interference detected!
Wikia is a free-to-use site that makes money from advertising. We have a modified experience for viewers using ad blockers

Wikia is not accessible if you've made further modifications. Remove the custom ad blocker rule(s) and the page will load as expected.