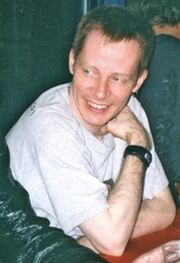 Steve Cook, whose website can be found
here
, is a British artist, photographer and graphic designer. According to his website, he "began his career by mistakenly applying for a job in the police force, after his high school careers advisors told him that the best way to get a solid job with a creative edge was piecing together identikit portraits of criminals. Luckily, he was an inch too short for the force and instead managed to get a job in a print house."
In 1983 Alan McKenzie employed Cook as the photographer and designer of Marvel UK's Starburst. He became the art editor in 1985 and revamped the title, following this by becoming the art editor of Doctor Who Magazine and giving it an overhaul too. From 1988 to 2001 Cook (a.k.a. art droid Robo-Cook) was the art director and designer of 2000 AD, and he also designed New Statesmen for Crisis.
Ad blocker interference detected!
Wikia is a free-to-use site that makes money from advertising. We have a modified experience for viewers using ad blockers

Wikia is not accessible if you've made further modifications. Remove the custom ad blocker rule(s) and the page will load as expected.