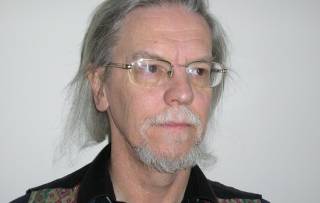 Steve Moore (11th June 1949 to 16th March 2014) was a comics writer, author, occultist and longtime editor of
The Fortean Times
, amongst other things. His work in comics began at
Odhams
and later included writing
Nick Fury
,
Hulk
,
Star Wars: The Empire Strikes Back
 and 
Ant Man
for
Marvel UK
. He also penned various
Doctor Who-
related strips including the
Time Witch;
Abslom Daak, Dalek Killer
,
Star Tigers
and
Kroton the Cyberman
(those last three co-created with frequent collaborator
Steve Dillon
) for Marvel UK's
Doctor Who Magazine
in its early incarnations as
Doctor Who Weekly
and
Doctor Who Monthly
.
Moore wrote Axel Pressbutton, Zirk and Father Shandor for Warrior (under the alias Pedro Henry). For 2000 AD, meanwhile, he scripted Tharg's Future Shocks (a format he created), Dan Dare, Red Fang, Valkyries, Rick Random, Judge Dredd, Agent Rat, Past Imperfect and Tales of Telguuth. He also contributed to A1, amongst other titles.
Steve was a longtime friend of (and mentor to) Alan Moore (no relation), who described him as his "oldest and dearest friend." He wrote Young Tom Strong and Jonni Future for Alan's America's Best Comics line, and the novelisation of V for Vendetta. Much of his 2000 AD and Warrior work was reprinted for the US market by Eagle Comics/Quality Comics and Eclipse Comics, and he scripted the Marvel Comics adaptation of the James Bond movie Octopussy. Later work included Hercules for America's Radical Comics. At the time of his death, aged 64, Steve was collaborating with Alan Moore on The Moon and Serpent Bumper Book of Magic. He had spent many years caring for his brother, who had motor neurone disease.
Ad blocker interference detected!
Wikia is a free-to-use site that makes money from advertising. We have a modified experience for viewers using ad blockers

Wikia is not accessible if you've made further modifications. Remove the custom ad blocker rule(s) and the page will load as expected.