Stockbridge is a village in the south of England which appeared frequently in the Doctor Who comic strips published by Marvel UK and Panini UK. It is apparently one of the Doctor's favourite haunts, and plays host to an alarming number of extraterrestrial incursions, which seem to bother the inhabitants not at all (because they are British and have stiff upper lips).
Stockbridge was created by Steve Parkhouse and Dave Gibbons in the Doctor Who adventure The Tides of Time (though it was later retroactively decided that the village seen briefly in the earlier story The Iron Legion was also Stockbridge) and later appeared in, among other stories, Stars Fell on Stockbridge and The Stockbridge Horror. The home of Maxwell Edison and Izzy Sinclair, it gets its name from Maxwell Stockbridge, a pseudonym used by various Marvel writers on the Night Raven prose stories.
There is a real Stockbridge, in Hampshire, but it isn't the Doctor's Stockbridge.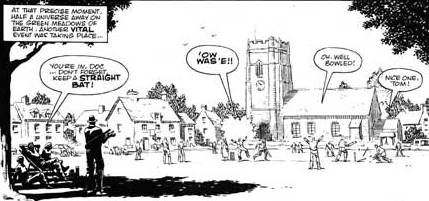 Ad blocker interference detected!
Wikia is a free-to-use site that makes money from advertising. We have a modified experience for viewers using ad blockers

Wikia is not accessible if you've made further modifications. Remove the custom ad blocker rule(s) and the page will load as expected.