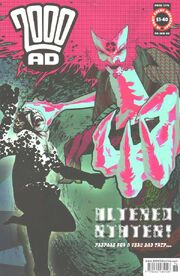 "TURN ON, TUNE IN, TRANSFORM...
San Francisco, 1967. Experiments into the effects of LSD have revealed the extraordinary potential the drug can unlock in the human brain. The Gates of Perception are about to be thrown wide open!"
Storming Heaven is a comic strip created by Gordon Rennie and Frazer Irving. The first episode appeared in 2000 AD prog 2002 (published December 2001), and the story was continued in the new year in progs 1273 to 1278. Pictured is the cover Irving created for prog 1276.
In Thrill-Power Overload David Bishop describes Storming Heaven as "a mind-bending slice of psychedelia written by Rennie with lurid art from Irving," and reports editor Matt Smith as saying that it "didn't go down very well. The readers never felt they connected with any of the characters and didn't care about them."
The strip is available in a collection of Irving's work sold here.
Ad blocker interference detected!
Wikia is a free-to-use site that makes money from advertising. We have a modified experience for viewers using ad blockers

Wikia is not accessible if you've made further modifications. Remove the custom ad blocker rule(s) and the page will load as expected.