Super Brownie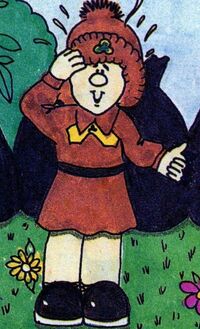 Current alias
Super Brownie
Characteristics
History
Super Brownie (who seemed to have no other name) was a little girl who was, unsurprisingly, a Brownie. She was also, equally unsurprisingly, super. As superheroes go, a small girl in a Brownie uniform who used her powers to pick up rubbish "at the speed of light" (allegedly) may seem rather less than impressive. And, indeed, so she was. But charming, in a whimsical sort of way.

Powers and abilities
Powers
Super helpfulness

Notes
Super Brownie would spin around a bit like the TV incarnation of Wonder Woman in order to activate her powers, but since she looked exactly the same before and after and seemed to be called Super Brownie all the time anyway, it is not entirely clear why she needed to do this.

Trivia
Super Brownie was the star of Brownie, a fortnightly publication of the Girl Guides Association.
Links
Discover and Discuss
Ad blocker interference detected!
Wikia is a free-to-use site that makes money from advertising. We have a modified experience for viewers using ad blockers

Wikia is not accessible if you've made further modifications. Remove the custom ad blocker rule(s) and the page will load as expected.