Super Mum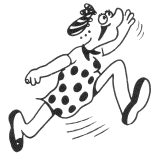 Relatives
Terry (son); Dad (husband)
Base of operations
Chelmsditch
Characteristics
Status
Origin
History
How Super Mum got her superpowers remains unrevealed, but she was quite open about them and frequently used them while racing around her home town of Chelmsditch, often causing chaos though always with the best of intentions. Her long-suffering son Terry regularly ended up having to apologize for her actions or get her out of trouble, particularly when she caused disruption at his school, St Nellie's. Dad usually kept his head down and was rarely in evidence.

Powers and abilities
Powers
Super strength; super speed; various other unspecified powers.
Strength level
Superhuman.
Weaknesses
Being a female character in a patriarchal society.

Notes
Super Mum was a Whoopee! regular from 1978 and a regular in the Whoopee! annual from 1979. She also appeared in the Whizzer and Chips annual 1990.
The strip contrasted sharply with Super Dad: a dad with superpowers is a hero, but a mum with superpowers is an embarrassment.
Links
Discover and Discuss
Ad blocker interference detected!
Wikia is a free-to-use site that makes money from advertising. We have a modified experience for viewers using ad blockers

Wikia is not accessible if you've made further modifications. Remove the custom ad blocker rule(s) and the page will load as expected.