Suzi Cho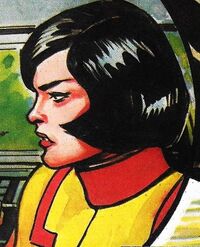 Base of operations
Cretaceous period
Characteristics
Unusual features
Occasionally
Status
Origin
Place of birth
Haniken Empire
History
Suzi Cho is a character in the Starlord and 2000 AD strip Timequake. She was a princess of the Haniken Empire in the 32nd century, recruited by Time Control to help police the timelines and fight the Droon. A courageous and loyal friend of James Blocker, Suzi had the apparently natural ability to change her shape at will, allowing her to flawlessly impersonate anyone or anything. She once morphed into a Droon, once turned into James Blocker to help him when he'd got into a fight with another Time Control agent, and was once a giant talking stone statue.
Suzi was considerably less emotional than Blocker, which meant that even though he was her friend she was prepared to let him have his still-beating heart plucked out of his quartered body to safeguard Earth's future in Starlord #12. However, she then rescued him when he said that there was another way to fix everything.
Suzi's character was intriguing and raised many questions which sadly went unanswered. How did it feel for her to have gone from being a princess to working alongside a sailor in Time Control, taking orders from their boss Harl Vinda? Did she miss the Haniken Empire? What effect did her shape-changing abilities have on her psychologically? How did she wind up working for Time Control rather than spending her life opening hospitals and hosting banquets? Was she even human? However, the scripts instead focused on James Blocker, the twentieth-century rough diamond to whom the readers could relate more easily.
James Blocker once tried to "claim" a kiss from Suzi as a "reward" after he helped to defeat the Nazi conquest of Britain, but changed his mind when she morphed into "some really old hag." He tried it again a few issues later. This time, because he hadn't gotten the message the first time, Suzi changed into a huge slime monster while kissing him.

Powers and abilities
Powers
Can "distort her psychic and physical aura into any shape she chooses."
Abilities
Operating a time-flux; piloting aircars.
Strength level
Human female who gets regular exercise (policing the timelines).

Paraphernalia
Equipment
Time-strap (can transport user 500 years; needs an hour to recharge).
Transportation
Time-flux.
Weapons
40th century blaster (needs occasional recharging).
Links
Discover and Discuss
Ad blocker interference detected!
Wikia is a free-to-use site that makes money from advertising. We have a modified experience for viewers using ad blockers

Wikia is not accessible if you've made further modifications. Remove the custom ad blocker rule(s) and the page will load as expected.