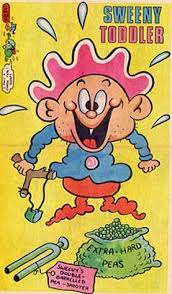 Sweeny, created by
Leo Baxendale
, was a mischief-making toddler whose anarchic adventures first appeared in
IPC
's
Shiver and Shake
in March 1973 before transferring to the pages of
Whoopee!
in October 1974. Later drawn by
Tom Paterson
and
Keith Reynolds
amongst others, the adventures of Sweeny and his dog Henry, often written by
Graham Exton
who seemed to have a quite limitless imagination when it came to devising new chaotic situations for the toddler to cause, were packed with bizarre little additions like mini strips about worms between the panel borders and strange things going on in panel backgrounds.
The strip eventually outlasted Whoopee! as well and went on to feature in first Whizzer and Chips (from March 1985) and then Buster (from October 1990). Sweeny was among the characters who appeared in the strip on the last page of the last ever Buster comic in January 2000, in which he vowed to turn over a new leaf and be nice to people from now on. Sweeny was Whoopee!'s cover star for two lengthy periods in the seventies and eighties, and his canine associate Henry Dog also had his own solo strip in the 1987 Whoopee! annual.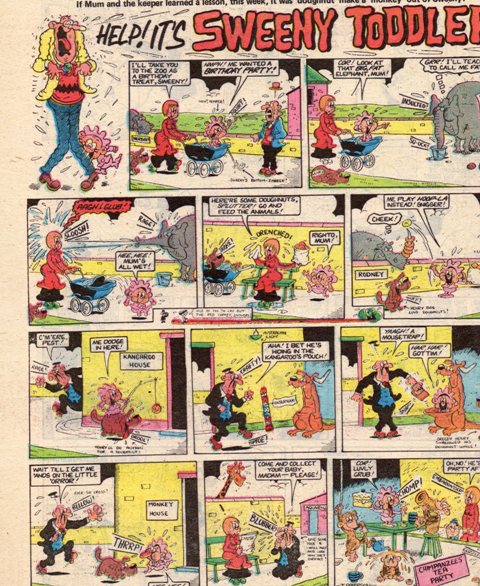 Ad blocker interference detected!
Wikia is a free-to-use site that makes money from advertising. We have a modified experience for viewers using ad blockers

Wikia is not accessible if you've made further modifications. Remove the custom ad blocker rule(s) and the page will load as expected.