T-Bone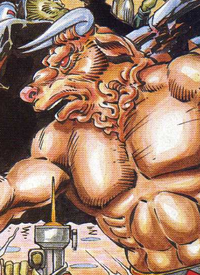 Base of operations
Future Earth
Characteristics
Unusual features
He's a humanoid bull
Status
Occupation
Freedom fighter; former Vatman
Origin
Origin
Genetically engineered
Place of birth
Future Earth
First appearance
Last appearance
History
T-Bone is a character from the 2000 AD strip Meltdown Man. He was a Yujee, a genetically engineered bull-man, created to be a slave of the humans who ruled the dystopian future Earth where Nick Stone found himself trapped. T-Bone was a 'Vatman', responsible for tending to the vats in which deceased Yujees, or those condemned to death, were recycled. Upon meeting Stone, he freed himself from his enslavement and joined Stone's crusade to free the Yujees from the rule of the despotic human Leeshar — a crusade which was ultimately successful.
The only drawback to the success of the revolution was that the explosion which annihilated Leeshar also sent Nick Stone back to the twentieth century. As Stone realised, this might mean that his actions in the twentieth century, blessed as he was with knowledge of the future, could cause T-Bone and his other friends never to be born: "The Earth was struck by an asteroid which changed the future, but what if the asteroid was deflected? What if my story is believed and humanity is prepared for its coming? Then the future would change, and Leeshar would never have existed. Nor would Gruff, Liana, or T-Bone. You'll never know for sure, Stone... except that they'll always live on in your memory!"

Powers and abilities
Strength level
Greater than human.
Weaknesses
T-Bone was susceptible to hypnotism, and was for a time under the mental control of the cobra King Seth.

Paraphernalia
Transportation
Slave ship.
Weapons
Has been known to use an anchor.
Links
Discover and Discuss
Ad blocker interference detected!
Wikia is a free-to-use site that makes money from advertising. We have a modified experience for viewers using ad blockers

Wikia is not accessible if you've made further modifications. Remove the custom ad blocker rule(s) and the page will load as expected.