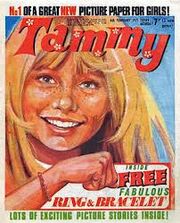 Tammy
was a girls' comic published by
IPC/Fleetway
from 6th February 1971 to 23rd June 1984 (689 issues in total). Originally edited by
Gerry Finley-Day
and later
Wilf Prigmore
, the comic absorbed several other less successful titles over the years, including
Sally
,
Sandie
,
June
,
Jinty
and
Misty
. Upon its cancellation,
Tammy
was itself merged into
Girl
. Or rather, it was meant to merge with
Girl
, but a strike intervened and
Tammy
was simply dropped, leaving her final stories unfinished. The title was an anthology with the usual (for girls' comics) mix of stories often centred around put-upon girls, valiant animals and supernatural mysteries, with long running strips including
Wee Sue
,
The Cat Girl
,
Bessie Bunter
,
Misty
and
Pam of Pond Hill
. Other notable stories included '
Slaves of War Orphan Farm
', '
No Tears for Molly
' and '
Becky Never Saw the Ball
' (that last one was about a blind tennis player, and pretty much sums up what made British girls' comics of the era so unique). Among the artists to draw for 
Tammy
was 
Jim Baikie
.
Tammy Annuals were also published, from 1971 to 1985 (dated 1972 to 1986).
Ad blocker interference detected!
Wikia is a free-to-use site that makes money from advertising. We have a modified experience for viewers using ad blockers

Wikia is not accessible if you've made further modifications. Remove the custom ad blocker rule(s) and the page will load as expected.