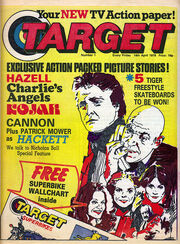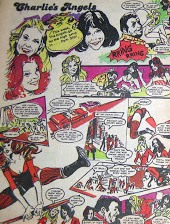 Target
was a weekly adventure comic published by
Polystyle
, launched in 1978. Like the company's earlier title,
Countdown/TV Action
, it was largely based on then popular TV shows (including
Target
, the crime drama which gave it its name), but the production standards were considerably lower than those of
Countdown
, giving the comic a rather cheap look despite its high (ten pence) price tag. The content was generally quite violent and contained a surprising number of scantily clad women, suggesting that it was going for the same slightly older audience as
Action
or
2000 AD
, but the strips were considerably less engaging, despite the best efforts of the creators crafting the adventures of Kojak, Cannon and
Charlie's Angels
, or even
Hazell
, probably the best strip in the thing. Failing to secure an audience,
Target
was merged into
TV Comic
after less than six months.
Target should not be confused with the wholly unrelated magazine Target.
Ad blocker interference detected!
Wikia is a free-to-use site that makes money from advertising. We have a modified experience for viewers using ad blockers

Wikia is not accessible if you've made further modifications. Remove the custom ad blocker rule(s) and the page will load as expected.