Tatty Oldbitt
Comments

0
975pages on
this wiki
Tatty Oldbitt (the Sailor's Friend)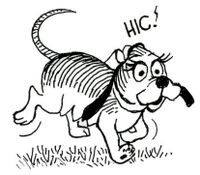 Current Alias
Tatty Oldbitt (the Sailor's Friend)
Characteristics
Unusual Features
She's a dog
Status
Origin
Tatty Oldbitt is an amorous, gin loving female Bassett hound who spends her life wandering from place to place and, each New Year, usually fetches up in Croynge and hangs out with Boot and B.H for a few weeks. She is deeply attracted to men in uniform, hence her nickname of "the Sailor's Friend", though in reality Tatty is attracted to pretty much anything male (especially Boot, who resistes her advances usually with a stern "Devil take it, Madam-desist!"). She usually ends up going off with B.H.

Tatty has had an indeterminate number of puppies but they don't seem to have stayed with her.
Tatty is a recurring character in The Perishers.
Discover and Discuss
Edit