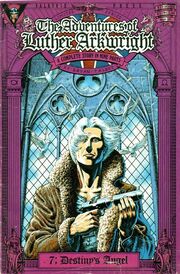 The Adventures of Luther Arkwright
was a limited series written and drawn by
Bryan Talbot
and published by
Valkyrie Press
from October 1987-April 1989. It initially reprinted the
Luther Arkwright
stories which had already seen print in
Near Myths
and later in
pssst!
magazine between 1978 and 1982, and then concluded the serial. The series ran to nine issues, with a tenth containing articles about the creation of the series and some extended backstory and character information. It was subsequently reprinted in the US by
Dark Horse Comics
.
The story
The series, firmly aimed at adults with numerous political, historical and mythological references and some fairly explicit sex scenes, is an epic science fiction adventure which spans various parallel Earths, but primarily one in which the English Civil War has been extended indefinitely due to the actions of the Disruptors, who are endangering the multiverse as a whole with an artifact called Firefrost. They are opposed by Arkwright and his telepathic love interest Rose Wylde, agents of the parallel known as Zero-Zero, which holds a stable position in the multiverse and monitors all the others for signs of Disruptor influence. Ultimately, Arkwright saves the multiverse but then renounces violence.
Sequel and spin-offs
In 1999, Dark Horse published a nine part sequel series, Heart of Empire: the Legacy of Luther Arkwright. The original series has been reprinted in both French and Czech editions, and there has also been a webcomic version. The series was also adapted in 2005 into a full cast three CD audio adventure by Big Finish Productions (better known for their Doctor Who range) starring future Doctor Who star David Tennant as Arkwright and former Blake's 7 star Paul Darrow as Cromwell.
Awards and critical reception
The Valkyrie Press series was nominated for eight Eagle Awards in 1988, winning four: Favourite artist, Best comic cover, Favourite character (for Arkwright) and Best new comic. It has been described (by Warren Ellis) as "Probably the single most influential graphic novel to have come out of Britain to date".
Arkwright first appeared in the short story The Papist Affair in Brainstorm Comix in the mid 1970s.
Talbot also incorporated the public domain character Octobriana into the Luther Arkwright narrative.
Ad blocker interference detected!
Wikia is a free-to-use site that makes money from advertising. We have a modified experience for viewers using ad blockers

Wikia is not accessible if you've made further modifications. Remove the custom ad blocker rule(s) and the page will load as expected.