The Best of
Look-In
was a 144 page hardcover book published in 2007 by Prion, an imprint of Carlton Books. Compiled and edited by Graham Kibble-White, it consisted of comic strips, features and posters taken from the 23 year history of Look-In, the 'Junior TV Times', originally published by ITV. Full length strips reprinted in the book included Sapphire & Steel in 'The Power of Hecate' (by
Arthur Ranson
), The Bionic Woman in 'The House of the Six Locks', The Tomorrow People in 'A Small Problem' and Black Beauty in 'Mother Dench' (by
Mike Noble
), plus short humour strips Crowther in Trouble (by
Tom Kerr
), Please, Sir!, On the Buses (by
Harry North
), Catweazle,Man About the House, ABBA, Benny Hill, 'It's Flintlock' (featuring the seventies boy band) and, also by Arthur Ranson, Les Dawson-Superflop and Michael Bentine's Potty Time. There was also a four page history of Look-In by Graham Kibble-White featuring glimpses of Mike Noble's Timeslip and
Martin Asbury
's Kung Fu. Features included Ace of Wands, The Worlds of Gerry Anderson, Follyfoot, The Marc Bolan Story and an interview with Roger Moore and another on Lena Zavaroni, amongst others, as well as a one page classic toy ad for the Six Million Dollar Man action figure produced by Denys Fisher. The book was published, unusually, with a choice of two covers, one with a red background, the other a yellow one. A warning printed on the second page warned the more gullible readers 'please do not enter any of the competitions or send money to the reader offers contained herein-it was 30 odd years ago and while we'd love a Tomorrow People T-shirt too, it's not going to happen!'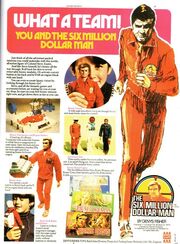 The book also contains a few pages of TV listings as they originally appeared in Look-In, and is an excellently produced visual record of the times represented. Even the classic Superman vs Nick O'Teen anti smoking ad appears! Design, including cover design, is by Alistair McGown, with the cover based on artwork by Arnaldo Putzu.
Ad blocker interference detected!
Wikia is a free-to-use site that makes money from advertising. We have a modified experience for viewers using ad blockers

Wikia is not accessible if you've made further modifications. Remove the custom ad blocker rule(s) and the page will load as expected.