The Brain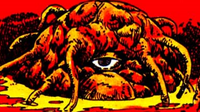 Affiliation
Various criminals
Base of operations
His tank
Characteristics
Unusual features
He's a giant brain
Status
Occupation
Waterwort tamer
Origin
Place of birth
Planet Q17
First appearance
Last appearance
History
The Brain is a character from the Starlord strip Strontium Dog. He was a reluctant criminal genius from the swamps of planet Q17 who had been kidnapped by a small gang of thugs and forced into helping them take the planet of Larg hostage. After a bomb designed by the Brain was revealed to be a fake by Johnny Alpha, the two bounty hunters came to arrest him. The Brain put up no resistance, instead hoping to use his time in incarceration to further train his Waterworts, semi-intelligent mimics which the Brain had taught to sing the musical Oklahoma!. Unfortunately, this quixotic endeavour was jeopardised when the criminals who kidnapped the Brain started a shoot out with Alpha and a stray laser-blast accidentally killed Cornelius, the Brain's best tenor. In retaliation the Brain blasted out a massive psychic wave which killed all the criminals. Afterwards the Brain was arrested and set to work on training the remaining Waterworts. Johnny promised to give Cornelius a good burial.

Powers and abilities
Powers
Incredible genius who can produce powerful psychic blasts.
Abilities
Teaching pond-life to sing the works of Rodgers and Hammerstein.
Strength level
Mentally, it's said to be "smarter than a hundred Einsteins."
Weaknesses
Physically, it's pretty much static.

Paraphernalia
Equipment
Large glass tank which the Brain seemed to live in.
Transportation
Whoever happens to be carrying its case.
Weapons
The 'ultimate weapon' (actually a box of fireworks which spelled out the words MERRY XMAS when detonated).

Notes
The Brain also played a minor rôle in the TV pilot adaptation where he helped Nelson Bunker Kreelman escape prison. The canonicity of this story is disputed.
Links
Discover and Discuss