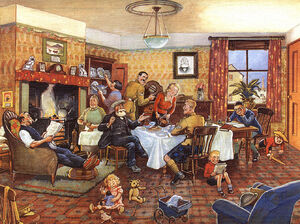 The Broons are an 'archetypal' Scottish family, working class and extended.They all, apart from Grandpaw Broon, live in the same tenement flat at 10 Glebe Street in the Scottish town of Auchentogle. The family have never changed since their first appearance in the Sunday Post Fun Section in 1936. To be honest, although some concessions to modern life have been made, they live in a timeless Scotland.
The Broons is also the title of a parody strip that was published in British satirical magazine Private Eye when the Scottish Labour politician Gordon Brown was Prime Minister of the UK.
Ad blocker interference detected!
Wikia is a free-to-use site that makes money from advertising. We have a modified experience for viewers using ad blockers

Wikia is not accessible if you've made further modifications. Remove the custom ad blocker rule(s) and the page will load as expected.